920 Observation
920 Observation
Information
920 Observation is a location in the Maze.
920 Observation is a section located within the maze and is one of the many Maze entrance areas from the surface. It is geographically located underneath 918 and 921 Hoadly Houses. The room has a notable glass room, locked with 1-2 supply crates inside and sometimes a Bonus Evidence poster. The floor plan of 920 Hoadly is painted on the ceiling. 920 Observation can be accessed through Lower East Hoadly house basements and the Elevator from Lower West Hoadly. The room can also be accessed through Host Conditioning, Instrument Supply, and Maze Connection.
Click on the picture for a larger view, directions to the location, and the image of the fragment itself.
| | |
| --- | --- |
| | |
| Ceiling | Rafters |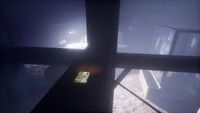 On top of rafters

"Cameras, y'all!"

The Blackout Club Wiki
has a collection of images and media related to
920 Observation
. Please visit the
gallery page
to see additional images, media, and to add your own to the collection.